Solar Design & Installation for Home
The global trend of renewable energy knows no bounds and as we are all discovering, solar is one of the best things you can do for your property.
Throughout the Hunter Valley, Central Coast and Sydney, MV Solar is creating and installing tailor-designed solar systems for homes that are both within the family budget and provide maximum security and return on investment.
Our solar systems are carefully constructed to factor in every relevant aspect of your:
● Environment: For example, are you exposed to environmental factors that may cause corrosion to your framing.
● Electrical Systems: Cheap or poorly installed systems and electrical faults do cause fire putting your greatest financial asset and your family at critical risk.
● Potential Restrictions: If you have financial restrictions, roof space limitations, or excessive power consumption, there is nothing to fear. We will work together to find a solution that delivers.
We are not a one size fits all company as your investment and our 30-year reputation is on the line. The feasibility study and financial projections we will provide will show you how sustainable your system is going to be over a 25- to 40-year timeframe to determine the sweet spot for perfect returns.
Australian Standards recommend checking and cleaning your solar system every 12 months to ensure peak performance and early detection of problems if they arise. Our Full Service & Maintenance Package has been designed to keep your solar system at peak performance for the lifespan, and keep you up to date with solar technology as it continues to advance over the years.
● Yearly Safety & Voltage Check
● Yearly System Clean
● Yearly Written Performance Report
● Lifetime Installation Guarantee
With our team and the complete supply chain based locally, your installation is completed in house and we are here to maintain and monitor your system for the long-term. As upgrade and repair specialists, if you are having any problems with a system installed by another provider, we are also here to assist.
The message is, you do not have to buy off the shelf, just taking what's put in front of you. A tailored system within budget, secured for performance and returns in the long run is what you should expect.
BOOK AN ONSITE VISIT HERE - Our solar specialists will come to your property and work with you to develop a solar system that takes all the variables into account.
Which Solar System is Right for Me?
Are you looking into proactively helping the environment and saving money in the process? Solar is now one of the most proven methods of clean energy production, especially in Australia, dramatically decreasing your carbon emissions and electricity consumption. With a carefully curated list of products, we will work closely to ensure the absolute perfect system for you.
PV Grid Connect Systems
A PV Grid Connect system collects sunlight through photovoltaic panels mounted on your home or business, which is then converted into usable AC current through an Inverter and distributed to all your electrical services, devices and products. Your continued connection to the grid provides the pathway for you to feed excess energy generated by your system back to your energy provider who may then pay a net feed tariff to you, further helping to reduce your energy costs.
Off Grid Systems
In remote areas, the cost of connecting to mains power supplies can be huge. In these cases, with advances in PV Technology the cost to run an Off Grid Stand Alone System is more often the most affordable option. The Design of an Off Grid system is a specialist area and requires detailed analysis of the way in which you use electricity over a full year. Our Solar Specialist will evaluate your energy needs and design a system that will adequately meet your requirements with sufficient storage capacity to keep you powered up even in low light conditions. At MV Solar, our goal is to design a system where use of the backup power supply, usually a diesel generator, is minimal.
Hybrid Energy Systems
Hybrid Energy systems are a mixture of both Grid Connected and Off Grid systems. Its connection to the grid is also supported by battery storage, offering the best of both worlds without the larger costs associated with a full off grid PV system.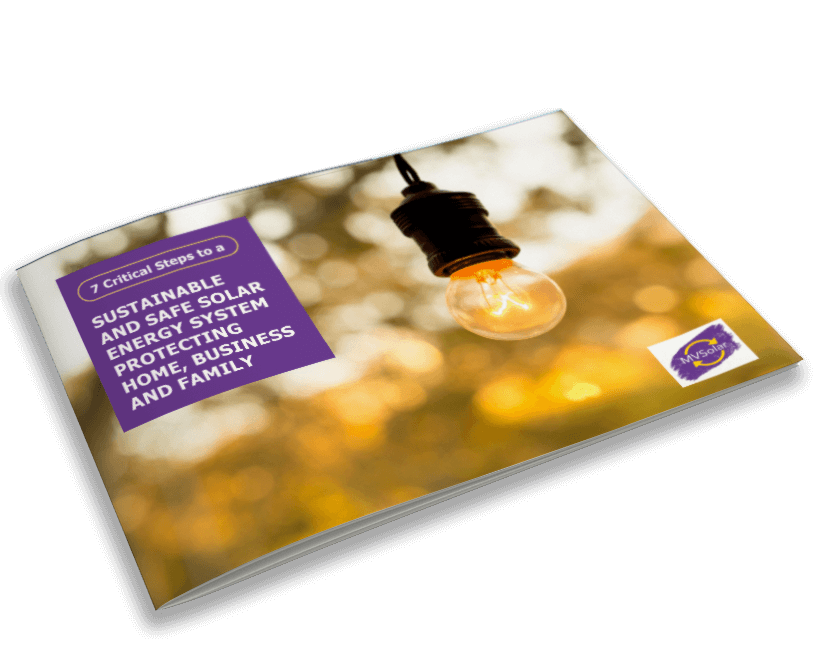 7 Critical Steps to a Sustainable and Safe Solar Energy System - Protecting Home, Business and Family
Complete the form below to receive your free copy.