Electrical Services
Whether you need to get some work done around the home or business, we are happy to speak with you about your electrical needs and arrange a quote. Some of the services we are able to offer include:
• Electrical wiring (domestic, commercial and industrial)
• LED Downlights
• Ceiling Fans
• IXL Light / Heat / Fan
• Exhaust Fans
• Pool Lighting
• Garden Lighting
• Outdoor Area lighting
• Smoke Alarms
• Power Points
• Hot Water System repairs and installation
• Electrical repair and maintenance
• Power connections for your pool area or shed
• Security Lights
• Sensor Lights
• Testing and tagging
• Switchboard and installation checks and upgrades
• RCD testing
• Emergency and exit light testing
• Safety Switch / RCD Protection
Which Solar System is Right for Me?
Are you looking into proactively helping the environment and saving money in the process? Solar is now one of the most proven methods of clean energy production, especially in Australia, dramatically decreasing your carbon emissions and electricity consumption. With a carefully curated list of products, we will work closely to ensure the absolute perfect system for you.
PV Grid Connect Systems
A PV Grid Connect system collects sunlight through photovoltaic panels mounted on your home or business, which is then converted into usable AC current through an Inverter and distributed to all your electrical services, devices and products. Your continued connection to the grid provides the pathway for you to feed excess energy generated by your system back to your energy provider who may then pay a net feed tariff to you, further helping to reduce your energy costs.
Off Grid Systems
In remote areas, the cost of connecting to mains power supplies can be huge. In these cases, with advances in PV Technology the cost to run an Off Grid Stand Alone System is more often the most affordable option. The Design of an Off Grid system is a specialist area and requires detailed analysis of the way in which you use electricity over a full year. Our Solar Specialist will evaluate your energy needs and design a system that will adequately meet your requirements with sufficient storage capacity to keep you powered up even in low light conditions. At MV Solar, our goal is to design a system where use of the backup power supply, usually a diesel generator, is minimal.
Hybrid Energy Systems
Hybrid Energy systems are a mixture of both Grid Connected and Off Grid systems. Its connection to the grid is also supported by battery storage, offering the best of both worlds without the larger costs associated with a full off grid PV system.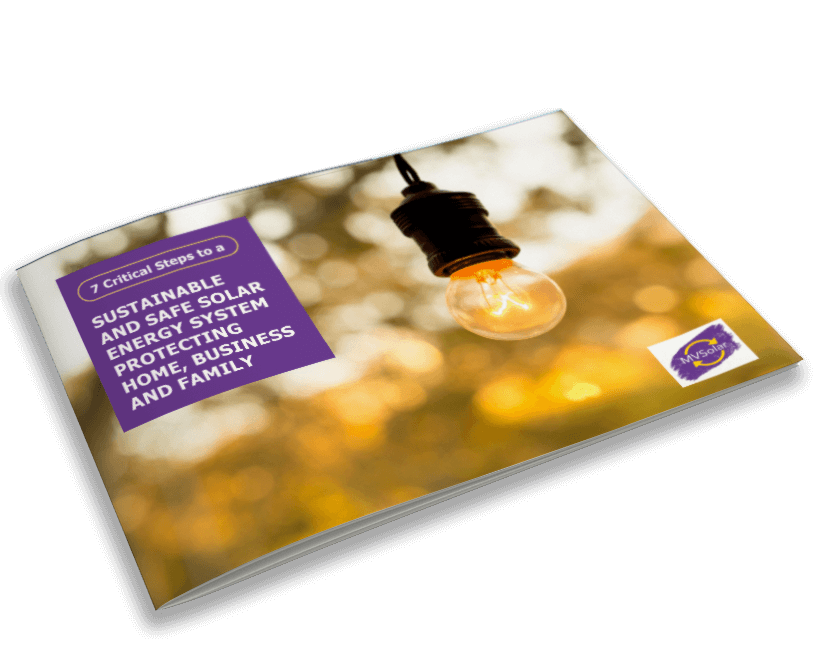 7 Critical Steps to a Sustainable and Safe Solar Energy System - Protecting Home, Business and Family
Complete the form below to receive your free copy.