Freedom From the Grid
While an off grid solar system may use the same solar panels as a grid connected solution, that is where the similarity ends. Off grid solar means complete independence from the energy retailers and, so, must be designed to ensure your self-reliance is protected at all times; your system cannot fail.
The image of a tiny off grid solar system running a caravan behind the hills in a remote Australian town is a stereotype far from present-day reality. At MV Solar, we power our entire home and office with our tailored off grid solar system including a warehouse, workshop, compressors, welders, air conditioning, hot water and more.
Off grid systems must reliably operate day and night, for long periods of time, in changing weather conditions and through fluctuations in load demand and energy use. This is only achievable if your system is specifically tailored to your energy needs. In every case of solar, you must not buy an off-the-shelf product, however, this is even more paramount when going off grid. Every corner you cut creates a weak link in the system, increasing the risk that you will be without electricity due to a fault or inadequate design.
Whether for home or business, to ensure your solar system is operational in all weather conditions and environmental locations, we conduct a complete analysis.
• How much electricity you use each day.
• Where and when maximum demand on electricity takes place.
• The daily operations of your home or business.
• How many days of autonomy (battery storage) need to be achieved before your diesel generator kicks in.
• Your building design.
• Your building's thermal mass and insulation.
• Your hot water system.
• What solar system adaptations are required to suit future needs.
When this information is combined with expert design and installation, you will have a completely reliable, fully autonomous off grid solar system geared for all circumstances.
Whether you want off grid solar for a small caravan, right through to a large hotel or resort, major multi-dwelling development or the family home, MV Solar will design an off grid solar system that provides complete security in your energy independence, fully integrated with backups and generators, is easy to operate and fully supported by our Full Service & Maintenance Package.
Bringing complete freedom from the grid is one of our greatest passions and for 30 years we've been doing just that, all the way through to tailoring and installing off grid solar for remote living and resorts throughout Fiji.
Our dedicated in-house, certified team services the Hunter Valley, Central Coast and Sydney with any and every kind of solar design, installation, service, repair and after-sales support. We are so committed to the solar industry and educating others about the benefits of solar that we also run seminars and workshops to ensure everyone has access to the latest information and most advanced technology in the industry.
Which Solar System is Right for Me?
Are you looking into proactively helping the environment and saving money in the process? Solar is now one of the most proven methods of clean energy production, especially in Australia, dramatically decreasing your carbon emissions and electricity consumption. With a carefully curated list of products, we will work closely to ensure the absolute perfect system for you.
PV Grid Connect Systems
A PV Grid Connect system collects sunlight through photovoltaic panels mounted on your home or business, which is then converted into usable AC current through an Inverter and distributed to all your electrical services, devices and products. Your continued connection to the grid provides the pathway for you to feed excess energy generated by your system back to your energy provider who may then pay a net feed tariff to you, further helping to reduce your energy costs.
Off Grid Systems
In remote areas, the cost of connecting to mains power supplies can be huge. In these cases, with advances in PV Technology the cost to run an Off Grid Stand Alone System is more often the most affordable option. The Design of an Off Grid system is a specialist area and requires detailed analysis of the way in which you use electricity over a full year. Our Solar Specialist will evaluate your energy needs and design a system that will adequately meet your requirements with sufficient storage capacity to keep you powered up even in low light conditions. At MV Solar, our goal is to design a system where use of the backup power supply, usually a diesel generator, is minimal.
Hybrid Energy Systems
Hybrid Energy systems are a mixture of both Grid Connected and Off Grid systems. Its connection to the grid is also supported by battery storage, offering the best of both worlds without the larger costs associated with a full off grid PV system.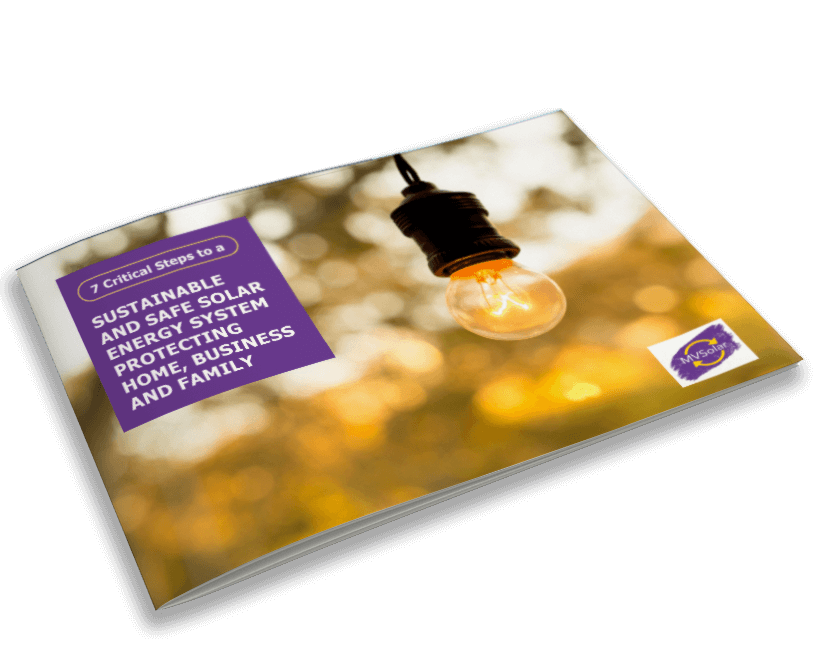 7 Critical Steps to a Sustainable and Safe Solar Energy System - Protecting Home, Business and Family
Complete the form below to receive your free copy.