Performance, Safety & Return on Investment
There is a reason why solar upgrades and repairs constitute 30% of our workload and growing... The influx of cheaply made, readily available solar systems combined with Government incentives to create a demand for solar that business operators saw an opportunity to capitalise on.
While every business needs profit to survive, a lack of understanding about solar and insufficient commitment to the long-term needs and goals of home and business owners meant low quality, poorly designed solar installations had become very common practise.
Where the focus on equipment longevity and a sustained return on investment that lasts at least 25 years is ignored, off the shelf, inadequate solar systems seem like the right way to go. However the problems do surface in the short, mid and long-term. Many home and business owners will first notice that the inverter isn't working as this is typically the most visible sign that something is wrong.
When we come out to inspect any fault or concern you have, we will conduct a full system inspection, checking every component of your installation from top to bottom and provide you with a detailed report. Performance of your solar system is absolutely critical because that's a huge part of why you have made the investment to begin with. However, the safety message is also key.
A poorly performing or non-functioning solar system costs you money daily and the domino effect can wreak much more damage over time. We have seen:
• Entire system failures within 1-3 years.
• Poor wiring, leading to fire.
• 100% solar panel breakdown.
• Significant performance loss (often undetected for months).
• Destruction of roofs due to substandard fixing.
• Loose and degrading panels.
• Documentation that doesn't match the products that have been installed.
• Installers who dump the job without even turning the system on.
As a holistic solar provider, we want the ultimate, long-term solar solution for everyone to enjoy. You may be in a position where your original provider's business has collapsed and you don't know where to turn. Regardless of the kind of problem you are experiencing with your on- or off grid solar system, you can get in touch with us. We will look after anyone who needs our help and commit to be there to support you for the lifetime of your system.
Because we will be taking on the responsibility of your system's performance after our repairs and maintenance are done, our recommendations to you will be designed to maximise the long-term benefits to protect us both. Our collaborative, consultation process means we work with you to identify the best possible outcome given the circumstances you find yourself in.
Our Full Service & Maintenance Package includes:
• Yearly Safety & System Check
• Yearly System Clean
• Servicing the Hunter Valley, Central Coast and Sydney, our team is central to your installation, including the supply chain we use, allowing us the benefit of being able to maintain and monitor your system for the long-term and personally keep you informed and up to date with solar technology as it continues to advance over time. Our dedicated in-house team of qualified electricians and engineers can also take care of any electrical need you have of any size and complexity. Yearly Written Performance Report.
• Lifetime Installation Guarantee
Which Solar System is Right for Me?
Are you looking into proactively helping the environment and saving money in the process? Solar is now one of the most proven methods of clean energy production, especially in Australia, dramatically decreasing your carbon emissions and electricity consumption. With a carefully curated list of products, we will work closely to ensure the absolute perfect system for you.
PV Grid Connect Systems
A PV Grid Connect system collects sunlight through photovoltaic panels mounted on your home or business, which is then converted into usable AC current through an Inverter and distributed to all your electrical services, devices and products. Your continued connection to the grid provides the pathway for you to feed excess energy generated by your system back to your energy provider who may then pay a net feed tariff to you, further helping to reduce your energy costs.
Off Grid Systems
In remote areas, the cost of connecting to mains power supplies can be huge. In these cases, with advances in PV Technology the cost to run an Off Grid Stand Alone System is more often the most affordable option. The Design of an Off Grid system is a specialist area and requires detailed analysis of the way in which you use electricity over a full year. Our Solar Specialist will evaluate your energy needs and design a system that will adequately meet your requirements with sufficient storage capacity to keep you powered up even in low light conditions. At MV Solar, our goal is to design a system where use of the backup power supply, usually a diesel generator, is minimal.
Hybrid Energy Systems
Hybrid Energy systems are a mixture of both Grid Connected and Off Grid systems. Its connection to the grid is also supported by battery storage, offering the best of both worlds without the larger costs associated with a full off grid PV system.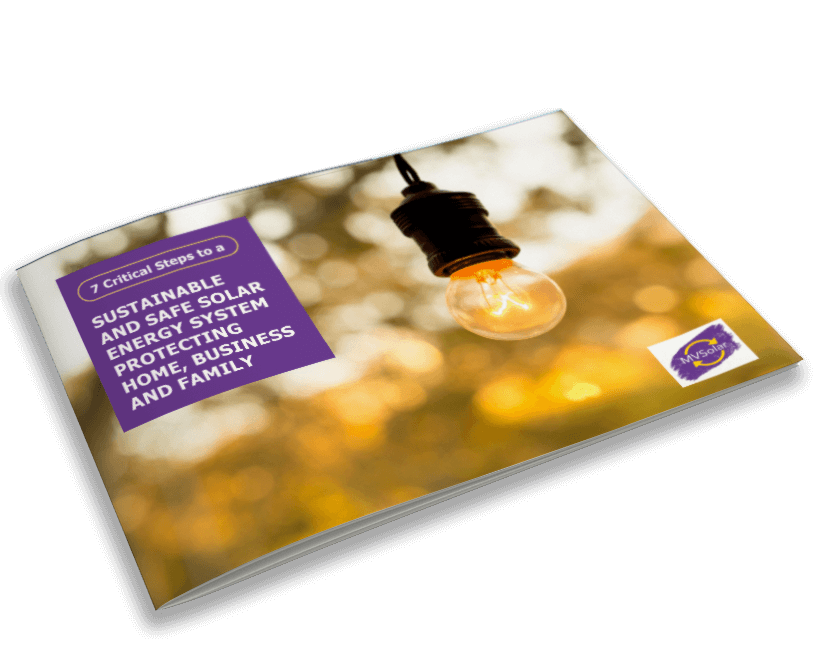 7 Critical Steps to a Sustainable and Safe Solar Energy System - Protecting Home, Business and Family
Complete the form below to receive your free copy.