Keep It Local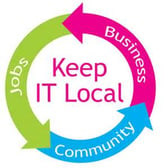 Due to a downturn in the mining sector, our local economy has been suffering in recent times.
As a local business we are committed to our community and fellow business owners, and hereby pledge our commitment to promoting, preferencing and supporting each other through our Keep it Local partnerships.
The businesses listed on this page have signed our pledge form, agreeing to do the same.
If you would like to get involved, call the MV Solar office on 1300 86 1737 or email

info@mvsolar.com.au